About software
On summer evenings, you can listen to the insects' voices that begin to cry in the garden at dusk of autumn as a relaxing sound effect.

● From 15 kinds of bugs such as cricket, horse mackerel and lark, you can select random selection or the sound of your favorite insect.
● You can also set a timer before going to bed at night.
● Today's age is also displayed.

The operation screen is simple, I think that it can be easily operated by anyone.


Operation explanation
Startup screen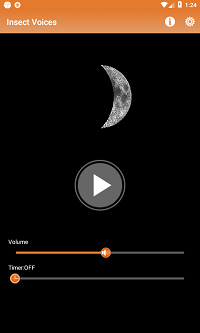 Today's lunar age is displayed at the top of the screen. You can display the previous and next lunar age with the left and right swipe.

Volume: You can set the volume by scrolling.

Timer: You can set a timer up to 180 minutes.


Setting screen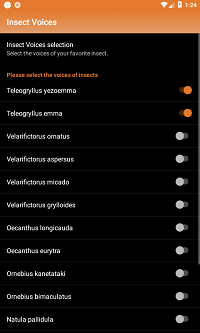 Insect voice selection: Choose whether to randomly select a few insects or choose your favorite insects.

By choosing an insect voice, choosing to select your favorite insects will make the selection of insects effective. Please choose your favorite insect voice from among 15 types of insects.


Information screen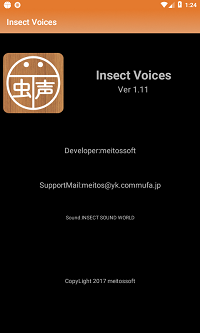 For customers within EEA Region You can switch GDPR from the menu.
Change log

09/30/2023

Android Android13 compatible. V1.50

01/01/2021
iPhone

ios14 compatible

. Ad tracking permission. V1.2.0

10/07/2020

Android Android11 compatible. V1.40

12/11/2019

iPhone ios13 compatible. V1.1.0.

12/05/2019

Android version UI revision & bug fix V1.30.

11/25/2019

Privacy policy update.

12/18/2018

iPhone Bug fixes. V1.01

12/04/2018

iPhone version release. V1.00

11/15/2018

Response to GDPR setting. V1.21 Part2

11/14/2018

Response to GDPR setting. V1.20

10/20/2017

Correct display error on lunar age. V1.11